More Small Box Shops Arriving in Main Street Districts Soon
Oct 15th, 2021
Main Street Alabama's successful Small Box Shop initiative in Heflin and Wetumpka was highlighted in our last newsletter – guess what?? Two more are in the works! Working through USDA, Main Street Alabama has received the go-ahead to fund two additional Small Box Shops – one in Marion and the other in Monroeville, both located in South Alabama.
The mission of Main Street Alabama is to utilize the proven Main Street Four-Point Approach® which provides a framework for the local Main Street program to organize for success, improve the design of and promote the historic district, and enhance the economic base of the local district.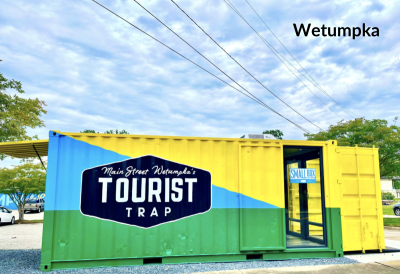 The purpose of the Small Box Shop is to stimulate and sustain economic development in the downtown district by encouraging entrepreneurs to test the market and eventually move into a brick-and-mortar building in the downtown district, thereby creating additional jobs and filling vacant buildings while providing needed goods and services to the community.
We plan to place the Small Box Shops by the end of November, in time for Holiday Shopping. Our sincere thanks to USDA for believing in this project and helping entrepreneurs realize their dreams.